Date Saturday 8 October, 2016
A seriously good opportunity to enjoy Cycling on the Gold Coast at its very best. Chris Thompson and his Tour de Valley team have developed a fantastic weekend with the Kirra Criterium Classic on Saturday the 8th and the very popular TT teams and individual event disciplines that captivate both Club and Non Club Cyclists.
Start/Finish
Intersection of Musgrave Street and Douglas Street, Kirra, outside the 'Nirvana by the Sea' apartments (Southern Gold Coast – QLD)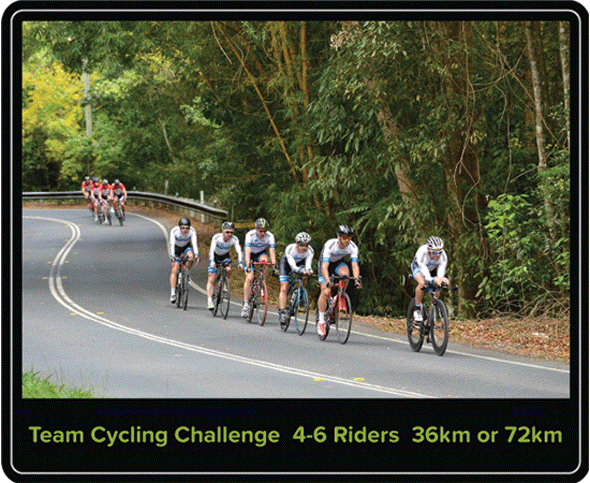 The 2016 Tour de Valley features an exciting team based cycling challenge, an individual time trial event and again heads to the coast to feature the Kirra Criterium Classic around the streets of Kirra.
Team Cycling Challenge and Solo Time Trial Event
Following the course proposed for the 2018 Commonwealth Games, riders undertaking the Team Cycling Challenge and the Solo Time Trial event on Sunday October 9 will experience the beauty of the Currumbin Valley, following Currumbin Creek on a flat to undulating return journey through the lush, scenic countryside.
The Team Cycling Challenge offers riders of all abilities the opportunity to race in a fun, safe, competitive event with a team of friends, colleagues or fellow club members. Riders can choose to participate in teams of 4 to 6 riders over a distance of 36km or 72km. Riders are encouraged to stay with their team mates and work together to the finish line. There are a number of unique categories offering prizes based on a handicap system. Visit here for further information.
The Solo Time Trial Event caters for any cyclist wishing to test themselves over the 36km course with the opportunity of being crowned the 'Queen' or 'King' of the Valley.
Kirra Criterium Classic
The Kirra Criterium Classic on Saturday October 8 will see teams of riders competing within 4 different categories along the Kirra Foreshore. Riders and spectators can enjoy the short circuit, fast racing on a great 1.2km 'hot dog' technical course with close competition.
Junior Kids Ride
The event will also feature a Junior 'Kids Ride' on Sunday October 9. It is a great opportunity for kids 4 – 12 Years to take part in a fun ride around an off-road circuit under the supervision of accredited coaches.
View the Solo Time Trial course records  
Click here for Traffic Information